Customer Lifecycle Management
Move from a slow, cost-driven Customer Lifecycle Management operating system to a faster and more customer-driven one, with WorkFusion's pre-built Intelligent Automation solutions.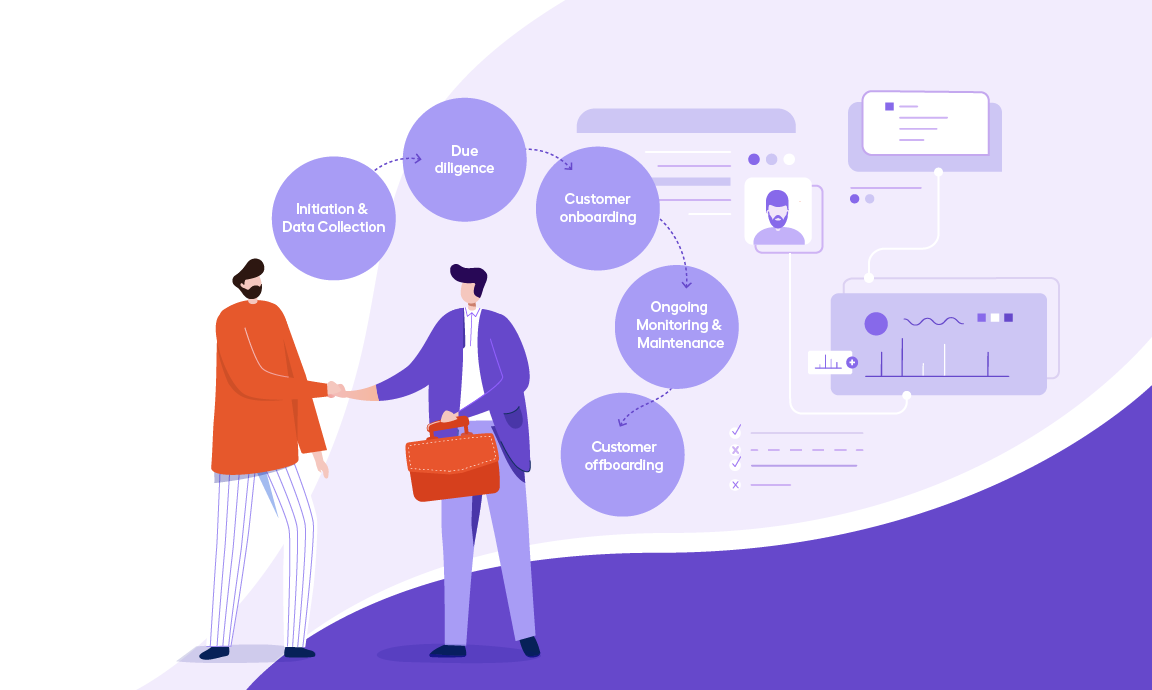 Explore more
LPL Financial Implemented Automation with $1M+ in Savings
The leading provider to independent financial advisors in the U.S. implemented Intelligent Automation and achieved cost savings of $1M+, while enabling growth for financial advisors.
pKYC: Avert the Alerts Avalanche


This paper is written for organizations that have already come to understand the benefits of perpetual KYC (pKYC) programs but need more insight on how IA is the true means to success.
Financial Services Roadmap: Know Your Customer (KYC)
Gain keen insights on how Intelligent Automation can help you tackle a more robust sanctions compliance program and follow KYC best practices while potentially reducing costs.
Customer Lifecycle Management is overloaded with unstructured documents
Financial institutions invest in digital experience for many reasons, but none is more important than attracting and retaining satisfied customers. However, while many of them have digitized customer-facing interfaces, the most time-consuming and error-prone work – extracting and matching data from documents and updating systems of records — is still done manually, degrading customers' experiences, slowing account opening and generating quality and compliance errors in back-office operations.
Manual operations are at the core of CLM inefficiency
Manual operations constitute 50–75% of all work in Customer Lifecycle Management, and their inefficiencies lead to poor customer experience and, as a result, customer churn:
On average, an extra 7–15 days are added to onboarding time per corporate customer, and 1–3 days per retail customer, due to manual work
40% of corporate customers report dissatisfaction with their bank's customer service
Annually, 15% of retail customers quit their bank and move to a competitor
The cost of getting it wrong is higher than ever, especially when new fintech players offer simpler access to banking services, without the complexity and manual work of traditional financial services providers.
BCG research shows that corporate banks annually lose 10–15% of gross revenues to attrition. Stemming even part of this loss could improve bank revenues dramatically — especially since revenue growth across corporate banking segments has hovered in the 0% to 4% range for the past few years.
The negative effects of over-relying on manual work are not limited to customer churn and subsequent missed revenue. It also leads to growing operational costs: Mid-size banks spend as much as $50M annually on CLM, while the cost for large banks can easily exceed $500M.
Intelligent Automation streamlines CLM operations
More banking operations leaders are turning to Intelligent Automation to improve operations with documents and systems of records across the customer lifecycle.
Applying an Intelligent Automation layer across CLM operations allows financial institutions to rapidly speed up manual operations such as customer documents processing, avoid backlogs and provide superior customer service, creating a faster and more customer-driven operational model.
WorkFusion's platform can solve key sticking points across the customer lifecycle:
automatically processing, categorizing, and routing customer communications to manage the outreach process;
intercepting data and documents, extracting key information from documents of various templates and feeding the BPM and document repository layers;
routing client information to screening engines and risk-rating systems, etc., all in near-real time.
The Continuous Learning Framework ensures non-stop development of the bots and improvement of their automation rates and accuracy.
End-to-end process automation is made possible with the combination of our Intelligent Automation capabilities:
1
Pre-built learning bots
Include deep understanding of industry document types, applications and other details of use cases​, that can be used as-is or calibrated using just a handful of documents for your specific use case.
2
Document Intelligence
Handles 100% of structured and unstructured documents processing, from document ingestion to data validation, without the need for third-party IDP tools.
3
Intuitive human-in-the-loop interface
Enables knowledge workers to directly manage exceptions and train the bots as part of their usual work, without the need for data scientists or engineers​​.
4
Tailored analytics and model risk management​
Empowers operational leaders to maximize automation value, providing actionable insights into SLA​ and KPI tracking​, model governance, automation accuracy, etc.
5
Continuous Learning Framework
Prevents performance erosion of automation solutions over time and ensure non-stop improvement in their accuracy, automation rates and ROI expansion.
6
Intelligent Process Automation
Provides a holistic approach to automation, its management on the enterprise level and scaling across different lines of business.
Want to learn more?
Read about WorkFusion's Account Opening and KYC automation solutions and critical capabilities of Intelligent Automation, find more success stories, white papers and analyst reports on our website.
Need help?
Talk to our automation experts.
They will help you select the best use case for your business and demonstrate how to scale the automation further with Intelligent Automation Cloud.