Document Handling
Automate digitizing and processing various complex documents and updating customer information in CLM systems, with WorkFusion's pre-built solution.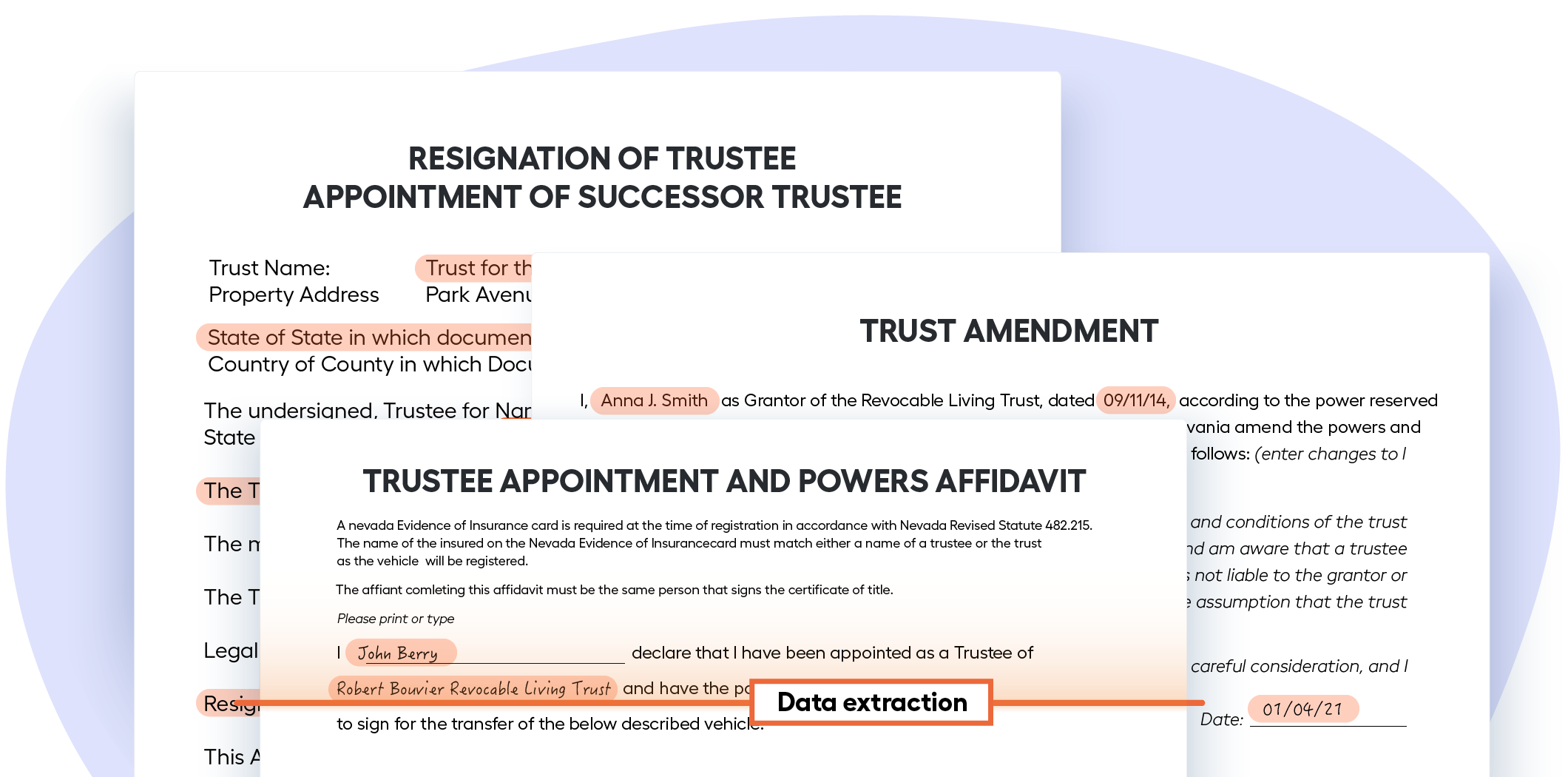 75%
reduction in manual handling time
25%
reduction in customer touchpoints
3x
end-to-end capacity gain
How it works
See how WorkFusion's pre-built solution automates and improves the process of document handling for KYC.
Challenges
Onboarding customers requires collecting and processing a substantial number of documents and document types. Considerable time is spent collecting, reviewing, and extracting information from these documents, and inputting data into CLM systems.
All this manual work creates several challenges that affect both customer service and the ability to grow a customer base:
Manually recording information and performing background due diligence is slow and tedious.
Gathering information with multiple manual hand-offs introduces errors that need to be corrected, which extends the already lengthy onboarding process.
Managing high volumes of customer documents requires additional manual labor, which only adds to the problem in the long run.
Maintaining a high standard for customer experience while remaining compliant grows more complex as regulatory requirements become stricter each year.
WorkFusion's solution
WorkFusion's Intelligent Automation solution for document handling reduces the number of manual touchpoints and handles data extraction, tracking, and linking to CLM systems:
Bots connect to email inboxes, CLM systems, internal document repositories, etc., and download customer documents.
Pre-trained ML models classify documents, check that they are valid and contain the required information, extract data according to pre-defined audit and approval rules, compare data across all documents, and escalate the case to a KYC analyst if assistance and further processing are needed.
Pre-built integrations connect to CLM systems and update customer data in real time.
Documents are saved in the repository and an email to the customer is created automatically — a person just needs to click Send.
Bots continuously learn from knowledge workers, increasing the accuracy and speed of the solution.
See more details about the automated process in this chart: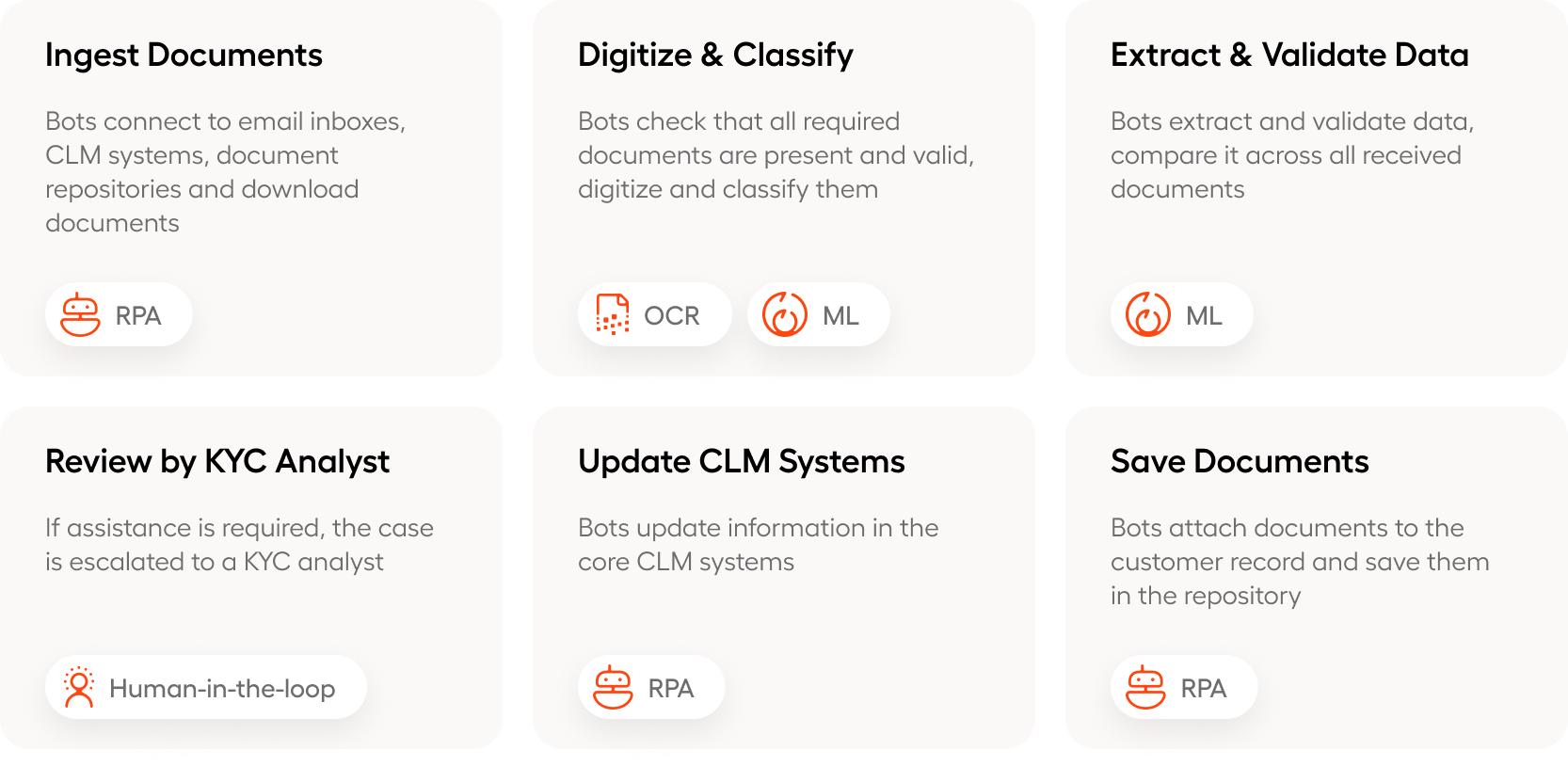 Signature detection: The out-of-the-box model for signature detection recognizes 86% of available signatures with 94% accuracy. The model can differentiate signatures from other handwriting elements.
Use case customization
WorkFusion provides wide-ranging customization capabilities for the use case:
If you need to process document type, you can select the relevant ML model from the list, add it to the workflow, and quickly tune it for your specific business needs with just a few documents.
Depending on your CLM systems, you can use different pre-built connectors in the workflow with minimal customization.
Results
Automation dramatically reduces document handling time and improves the accuracy of collected data, with 10% of submissions handled with straight-through processing. Quicker turnaround times for the client provide a superior customer experience.
The solution creates a new operating model and a better user experience for the whole KYC team:
Analysts no longer need to work with multiple tools. All work is done in a single interface.
Managers have full visibility into and control over KYC operations.

Document types
Trust agreements
Trust amendments
Trust restatements
Certificates of trust
Ultimate Beneficial Ownership forms
Appointment of Trustee
Resignation of Trustee
Affidavits of trust
Supported integrations
Fenergo
Pega
iMeta
Appway
Other CLM systems
Brochure
Download to learn more about automating document handling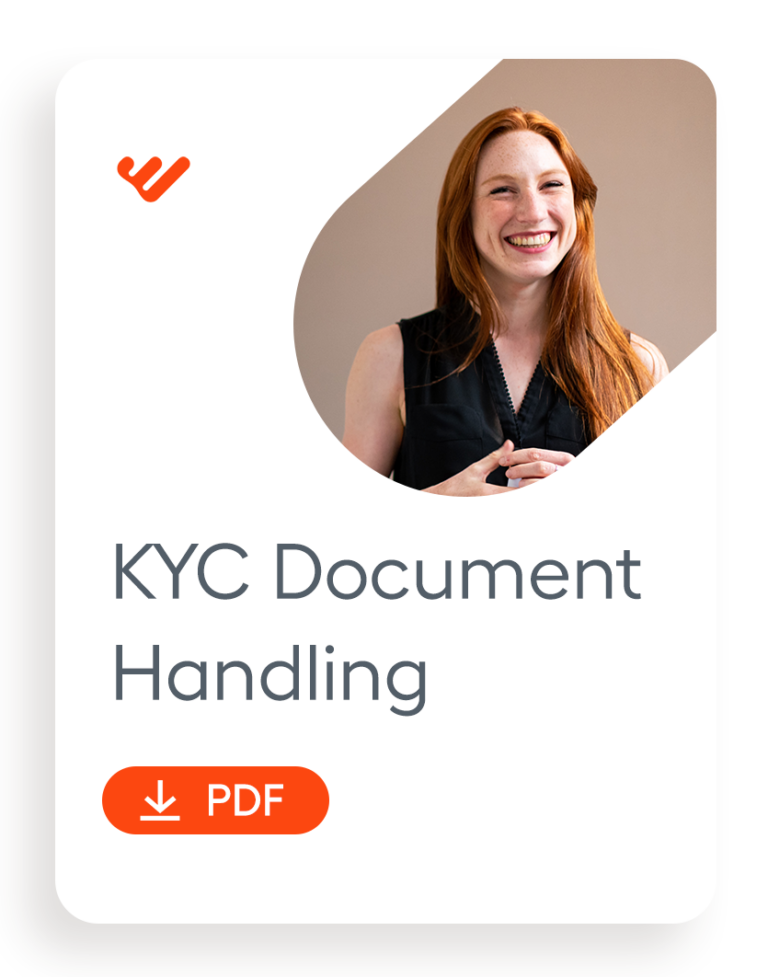 Customers who viewed this use case also viewed