Endorsement Request Intake and Routing
Automate ingestion of policy change requests received from customers, agents or brokers for commercial line endorsements, with all relevant changes automatically performed in internal systems.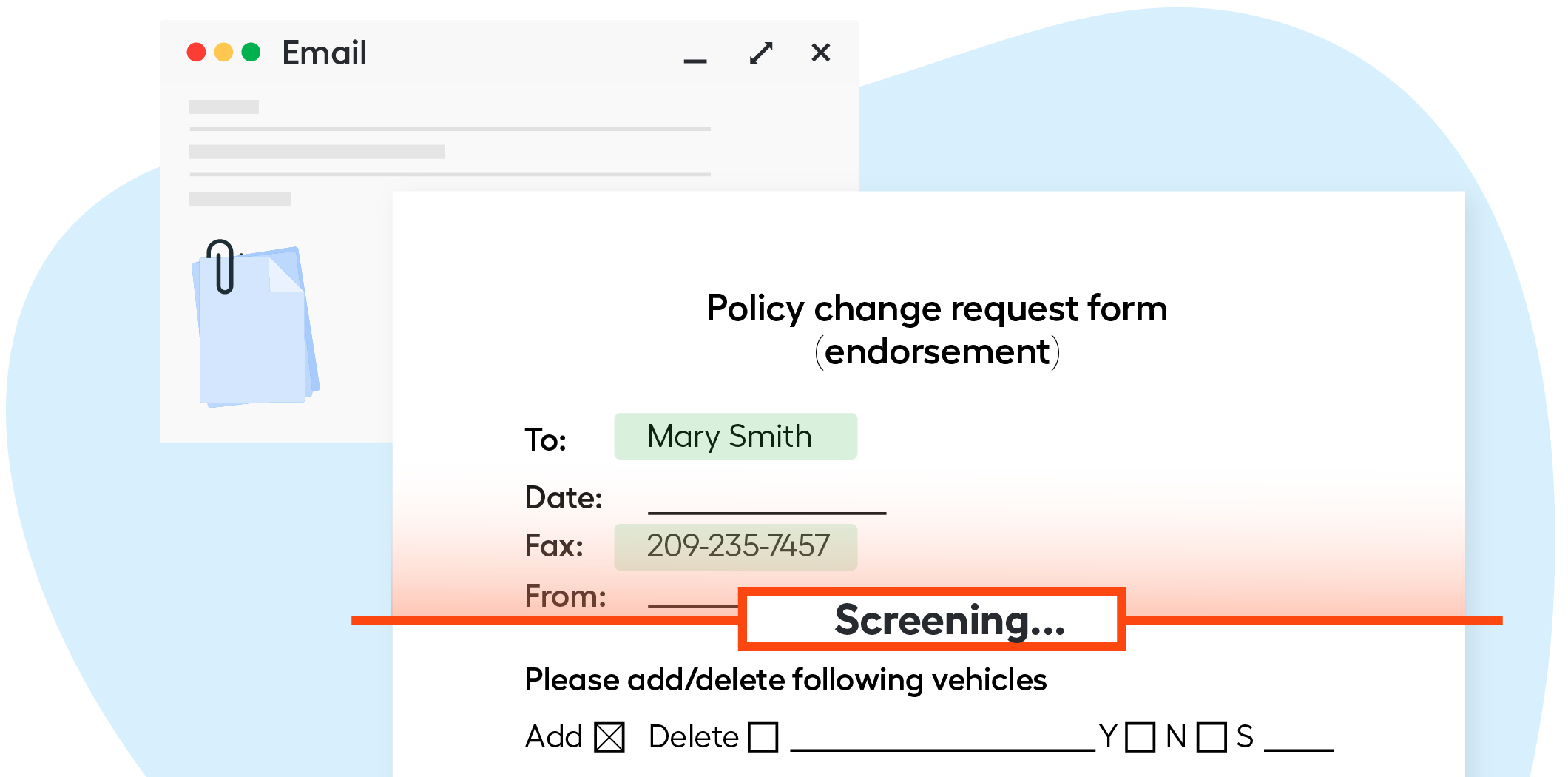 70%+
reduction of manual handling time
100%
STP for endorsements such as Add Vehicle or Add Driver
Why it is important
Commercial insurance is a highly competitive business segment with razor-thin margins.
Most commercial insurers are trapped in an unproductive and unmaintainable legacy operating model, relying on layers of operational teams or BPO performing manual work in order to transform documents and data into policy decisions that can be captured by systems.
This high-intensity manual work has disastrous compounding effects, both for their loss ratio and their operating performances.
What needs to be improved
Currently, processes to ingest policy change requests are subject to several critical challenges:
Intense manual work: Historically, commercial insurers had to leverage policy administration teams or underwriting operations teams, or mobilize BPOs to manually process change requests received from customers, brokers or agents (which includes parsing unstructured emails and documents to find the right data).
High volumes: Large volumes of commercial line endorsements require time-sensitive responses.
High costs: Adding layers of manual work creates corresponding layers of costs, piling up operational expenses for commercial insurers and degrading their combined ratio.
How WorkFusion can help
From Day 1, the WorkFusion® pre-built Intelligent Automation solution for Endorsement Intake will process common requests received from customers/agents fully automatically (with no human touch required). Beyond this, manual admin work for any other request requiring human validation should be reduced by 70%+.
WorkFusion achieves such impact by automatically:
Lifting inbound requests from emails and separating email content from key attachments
Identifying the nature of the change request submitted
Classifying supporting documents into types
Extracting key data points from all relevant documents
Performing required updates/edits in policy systems (adding/removing drivers, vehicles, etc.)
Document types
Emails
ACORD form
Statements of values
Policy change request forms
Vehicle information
Supported integrations
Duck Creek
Pega
Guidewire
Oracle
Outlook
Customers who viewed this use case also viewed